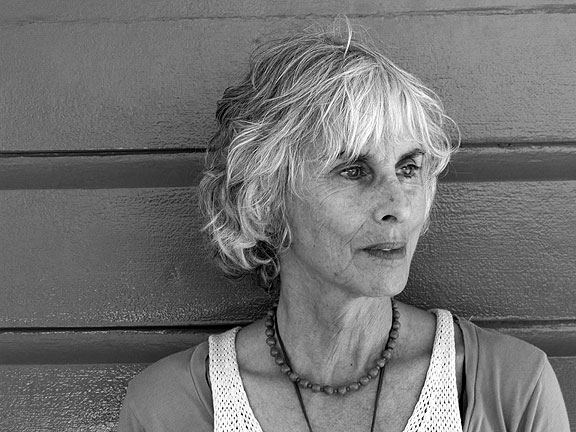 Photo credit: Vicki Topaz
Summer Brenner is the author of a dozen works of poetry and fiction that include short story collections, award-winning YA novels, noir thrillers, and the occasional essay. Her writings have appeared in dozens of anthologies and literary magazines. Performances of her work include The Missing Lover, a one-act play with staged readings directed by Peter Glazer; theatrical productions of Richmond Tales, Lost Secrets of the Iron Triangle and Oakland Tales, Lost Secrets of The Town; and recordings/performances with musical extravaganza, Arundo and Smooth Toad (Andy Dinsmoor, Bob Ernst, Hal Hughes, and GP Skratz). She has given scores of readings in the US, France, and Japan. She was raised in Atlanta, Georgia and is a long-time resident of Berkeley, California.
Readings and Presentations: Anarchist Book Fair (SF), Beyond Baroque (LA), Bowery Poetry Club (NYC), Brecht Forum (NYC), Funky Butt (NOLA), Gold Mine Saloon NOLA), Litquake (SF), St. Marks (NYC), San Francisco Art Institute, San Francisco MOMA, SFSU Poetry Center (SF), Shakespeare and Co. (Paris), USIS (Kyoto and Nagoya, Japan), Workshop 112 (NYC) and a myriad of bookstores, universities, libraries, festivals, and bars.
Media interviews: ABC-Channel 7 TV, Cross Currents, Gary Goldberg Show, KALW, KPFA, KPFK, KQED Forum, Indymedia, Tavis Smiley Show, West Coast Live

List of Anthologies (partial):
Rising Tides: 20th Century Women Poets, ed. Laura Chester, Simon & Schuster, New York (1973)

American Poetry Since 1970: Up Late, ed. Andrei Codrescu, Four Walls, Eight Windows, New York (1987)

Deep Down: New Sensual Writing by Women, ed. Laura Chester, Faber & Faber, Winchester, MA (1988)

Cradle and All, ed. Laura Chester, Faber & Faber, Winchester, MA (1989)

The Stiffest of the Corpse, ed. Andrei Codrescu, City Lights, San Francisco (1989)

The Unmade Bed, ed. Laura Chester, HarperCollins, New York (1992)

American Poets Say Good-Bye to the 20th Century, ed. Andrei Codrescu/Laura Rosenthal, Four Walls, Eight Windows, New York (1996)

Wreckage of Reason: XXperimental Women Writers Writing in the 21st Century, Spuyten Duyvil, Brooklyn (2008)

Infinite City by Rebecca Solnit, University of California Press, Berkeley (2010)

Send My Love and a Molotov Cocktail! Stories of Crime, Love, and Rebellion, ed. Gary Phillips/Andrea Gibbons, PM Press, Oakland (2011)

Al-Mutanabbi Street Starts Here: Poets and Writers Respond to the March 5, 2007 Bombing of Baghdad's "Street of Booksellers," ed. Beau Beausoleil/Deema Shehabi, PM Press, Oakland (2012)

Jewish Noir, ed. Ken Wishnia, PM Press, Oakland (2015)

The Year's Best Crime and Mystery Stories 2016, ed. Kristine Kathryn Rusch and John Helfers, Kobo Press (2016)

River of Fire: Commons, Crisis and the Imagination, ed. Cal Winslow, Pumping Station, Boston (2016)

Strange Fruit: Poems on the Death Penalty, ed. Sarah Zale & Terry Persun, Wildflower Press (2019)

Berkeley Noir, ed. Jerry Thompson/Owen Hill, Akashic, Brooklyn (2020)